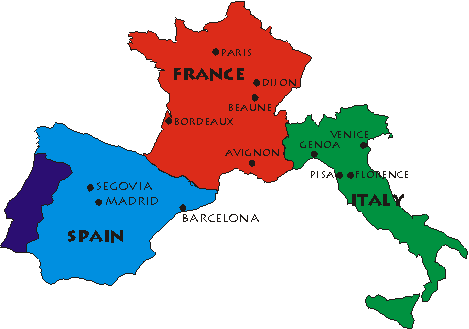 Who woudn't want to tour Western Europe with me? That's what I thought.

That's why I'm proud to announce my Grand Tour of Western Europe. I hope you'll sign up to come along. Dates are to-be-announced, and since it's probably never going to happen, it's FREE to participate.

Here are the terms and conditions:

Pack light! One day bag, one rolling suitcase. You will be lugging your own gear.
Prepare! Read your guide books, plan your days. Don't rely on me to explain everything to you.
Get over your jet lag in the first few days! Jet lagged people are toxic. From Day One, you gotta get up on time, eat on time.
Just so you know, I will plan my own days around meals, to control my blood sugar. I plan on staying in two star hotels, and I only plan on taking trains, subways, and city buses.
Here's the itinerary:
Paris, France
(5 days) The goal of Paris is to get over jet lag, walk a lot, see some sites, get familiar with public transit. Louvre, Musee D'Orsay, Tour Eiffel, Bateau Mouche, Musee de 'Art Moderne, Musee du Monde Arabe, Champs Elysees....
Provence
(5 nights) Based in Aix, Nimes, or Arles. Avignon, Les Beaux, the Camargues, les Saintes Maires de la Mer.
Marseilles
(1 night) Vieux Port, bouillabaisse, pizza, island
Cote d'Azure
(3 nights) Based in Nice. Promenade des Anglais, the old city, Matisse museum; day trips to Cannes, Monte Carlo.
Firenze, Italia
(3 nights) Duomo, Uffizi, day trip to into Sienna, Assisi.
Roma, Italia
(5 nights) Ancient Rome, St. Peter's and the Vatican, Ostia Antica, general hanging out.
Napoli, Italia
(2 nights) Explore the town, eat pizza, Paestum, Herculanium, Pompeii.
Capri
and/or
Costa Amalfitana
(3 nights) La dolce vita.
Bordeaux, France
(2 nights) Day trip to St. Emilion, maybe Arcachon.
Barcelona, España
(3 nights) Ramblas, Sagrada Familia, Gaudi Museum,
Madrid, España
(5 nights) Prado, what else? Day trips to Salamanca, Toledo
Sevilla, España
(3 nights) ?
Lisboa, Portugal
(5 nights) ?
Ok, where else should we go? What else should we do? You're coming, aren't you? I'll need help planning Spain, since I haven't traveled a lot there. Anyone want to go to London?